About
Synergetic Audio Concepts is an audio training company dedicated to providing practical, relevant training for audio practitioners. The amount of information needed to work in the audio industry can be overwhelming. We strive to improve the accessibility of this information by providing a collaborative online environment of connected resources that encourages and fosters the exchange of ideas.
Our Beginnings
In 1973, Synergetic Audio Concepts began with the realization that there was a growing need for training in the fundamentals of sound reinforcement. In December 1972, Don Davis, who at that time was Vice President at Altec Lansing, resigned his position to form Synergetic Audio Concepts.
Don and his wife Carolyn, as students of the writings of Buckminister Fuller, felt that his concept of chemical synergy fit with what they wanted to accomplish – making the "whole greater than it's individual parts." They believed this concept was especially relevant to sound system engineering.
Synergy can be summarized with the following saying which became the philosophy upon which the company was built: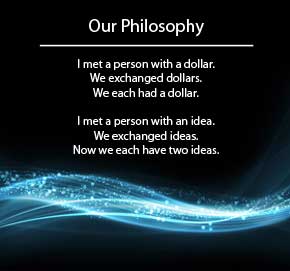 The Davis's then spent from January to May,1973, writing the first edition of Sound System Engineering. Once the book was completed and published, they loaded their customized Airstream trailer with state-of-the-art equipment, Sound System Engineering textbooks, and took their vision of providing real-world audio education to others. They combined their love for audio, Don's passion for teaching, 20+ years of audio experience, and the concept of "synergy", and set out to meet the industry's needs.
For 23 years, they educated, listened, and created the synergetic foundation that is SynAudCon. When they turned SynAudCon over to Pat and Brenda Brown in 1995, Don and Carolyn had been responsible for the education of more than 10,000 sound contractors, designers and consultants and literally changed many lives.
Pat and Brenda Brown have the same vision and are continuing the tradition for today's generation of audio engineers, taking audio training to a new level. For 14 years, Pat and Brenda followed the SynAudCon tradition of providing In-person seminars, with more than 15000 grads. We are now making this information available worldwide as we introduce online training in 2010.
SynAudCon Photo Gallery