Isn't technology wonderful!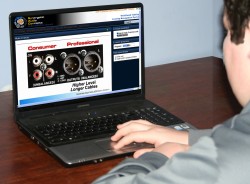 The internet now allows us to bring classes to you through your computer, allowing you to experience SynAudCon training at the time and location of your choosing.
We have kept the best parts of the live training experience, and added some things that we could not do live. The course topics are broken down into smaller tracks allowing you to digest information over time. Pause. Repeat. Replay. You can't do that in a live class.
Online training can be mediocre – our goal is to break that stigma.
SynAudCon has taken advantage of the latest technology, years of teaching experience and combined it with a very capable Learning Management System to create Web-Based training. One big advantage of web-based training over in-person training is refinement. In the classroom, we get one opportunity to explain a concept or principle. The web-based training is refined to create a polished presentation.
Are you a visual leaner?
Flash animations and demonstrations are used liberally throughout the videos. Understanding is often just a matter of seeing the right picture, and a moving picture is even better.
Chick on the tabs to learn more about SynAudCon web-based training.