Description
SynAudCon Digital is designed to provide a comprehensive introduction to digital audio, digital signal processing, and IP networks. This course is designed to dramatically shorten the learning curve for understanding everything from data formats to networked audio systems.
To an audio guy, these topics may seem boring. Steve Macatee, Brad Benn, and Pat Brown go to great lengths to make it fun. This team takes a tag-team approach to present the theory. They then let YOU apply it. It starts basic, with a small network on each table. We then interconnect the tables and solve the problems encountered, ending up with the entire room on one network. The theory and practices apply to all computer networks, not just one transport.
Here's the Agenda
The Digital Audio Signal – The principles of converting analog signals into a bit stream are the basis for understanding all digital audio data formats. But what sample rate is high enough, and what bit depth is deep enough?
Digital Audio Formats – The bit stream can be packaged into many formats for transport. These include consumer formats such as S/PDIF and professional formats such as AES3. Additional formats include AVB, Dante, CobraNet, and MADI. Learn the nuances of each, including how to select the appropriate format for a given application.
Data Compression – In many cases parts of the digital bit stream can be discarded, improving the efficiency of processing and transporting digital signals. Lossy and lossless compression schemes are contrasted.
Digital Signal Processing – Part of the magic of digital audio is the ability to manipulate the signal in ways not possible with analog processors. Learn the difference between fixed-point and floating-point processing, and FIR and IIR filter topologies. We also present some simple, practical ways to compare DSP devices that will help you sort through the myriad of offerings in the audio marketplace.
Instrumentation and Troubleshooting – The tools-of-the-trade for analog audio are not adequate for digital audio. A new class of instruments has emerged to aid in troubleshooting digital audio systems and networks. Throughout the course we will demonstrate the use of practical instrumentation for examining the digital signal path. These include hand-held digital testers and software tools.
Digital Audio Networks – Networks have dramatically changed the way that signals are routed throughout a venue. Several network types have emerged, each with its own set of strengths and weaknesses. Learn the differences between them, along with how to select one based on the current and future requirements of the sound system. Learn how to future-proof your networking knowledge by considering all digital audio network protocols.
Ethernet – Ethernet and its associated hardware is finding its way into all types of audio gear. A confusing landscape of compatibility has emerged. Learn concepts that are applicable to your office network as well as your audio network, and how both can be combined into a single network.
Proprietary Networks – The proliferation of Ethernet has produced low-cost hardware and cables that can be purchased almost anywhere. Some manufacturers are taking advantage of this by utilizing Ethernet connectors and cabling in their products. We will also look at some of these "non-Ethernet" uses of Ethernet interconnects.
As An Added Bonus…
The arguments continue regarding sample rate and bit depth. How good is good enough? We have produced a self-running demo for breaks and meal time to help you educate yourself on this important concept. The headphone playback system is state-of-the-art and you will see and hear various digital resolutions compared. You will see and hear the difference between 24/96 digital audio and 16/44.1 (CD Quality) – information that will help you make practical decisions in your digital audio practice.
Course Material Includes:
Course Manual – It's not a manual of PowerPoint slides. It is filled with useful graphics.
Support Files that include useful calculators
Certificate of Completion
Who Should Attend: This 3-day course is for experienced audio people who can say "I've procrastinated long enough. It's time to learn this stuff!"
Photos
Enjoy looking at some photos taken at the SynAudCon Digital Seminar. The last photo shows the amount of equipment that is needed for this seminar.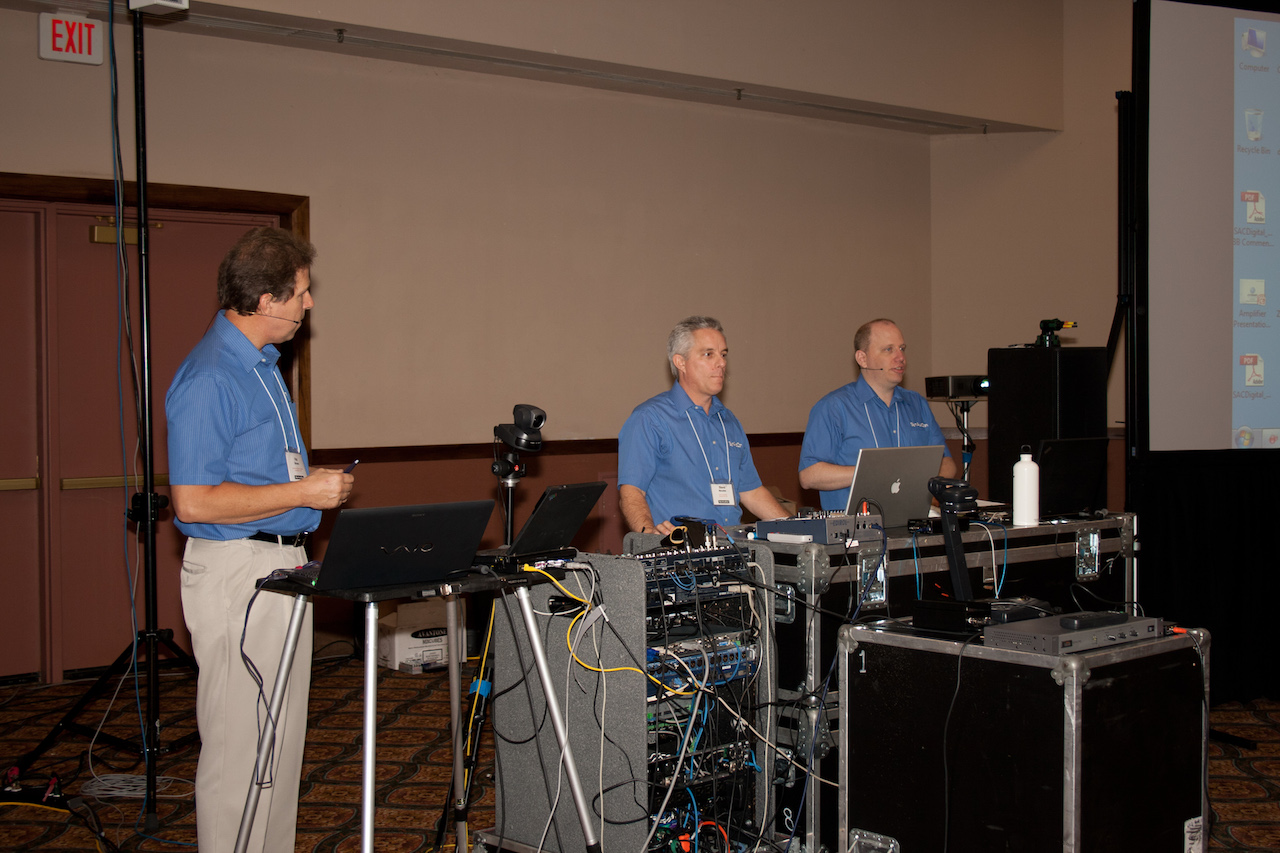 Instructor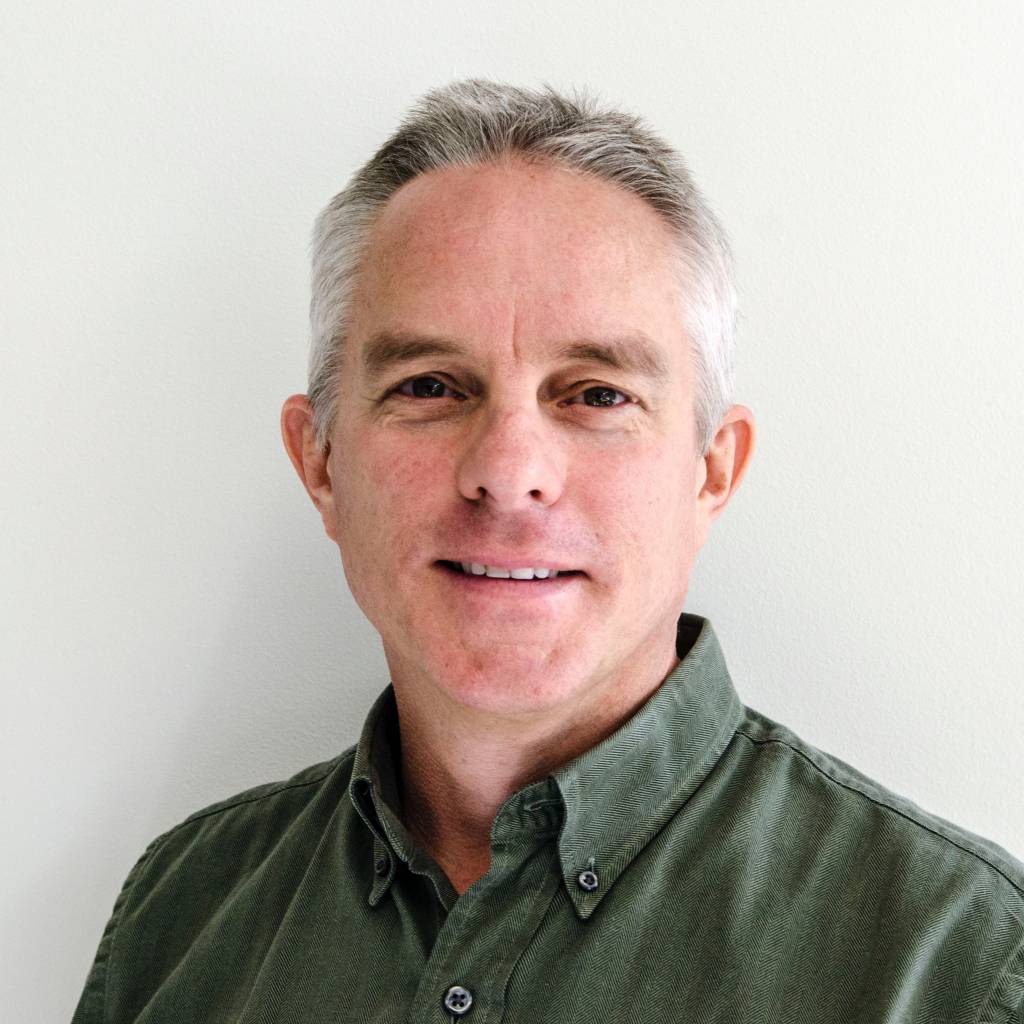 Steve Macatee is Director of Product Development and Training at Rane Corporation. But don't let the fancy title fool you. Over the past 20 years he has worked in manufacturing, test, documentation, analog, digital and embedded system design.
Steve Macatee was born very young in Philadelphia. Then in 1986 he received a BS in Electronic Engineering from Monmouth College, New Jersey, USA. Steve has worked at Rane Corporation since 1987 in several capacities: from manufacturing; mechanical, interface and PCB design; in-house and product documentation; analog, digital, embedded systems and – luckily for everyone – not much GUI or DSP software design. After a decade in R&D Engineering, Steve underwent an Inverse Dilbert Transform and moved to Sales for 4 years as a technical and consultant contractor liaison. He currently heads the New Product Development and Training department at Rane where he also works to define new products and technology ideas.
Steve has been an instructor for audio workshops on Grounding and Audio Networking, has published AES papers on grounding and computer-controlled networked audio devices and currently – along with Brad Benn and Pat Brown – co-instructs the SynAudCon Digital seminar.
Steve enjoys getting out of the idealized lab and into the real world. For fun, Steve enjoys music, great food, spending time with his most-excellent wife, and attempting to be a musician with several jazz ensembles in the Seattle area.
Bradford Benn brings 3 decades and counting of audio experience ranging from installation, design, project management, documentation, and sales. He was also Novell Certified and worked as an IT Director. This unique combination of skills make Bradford a valuable part of SynAudCon Digital.
Bradford has been interested in computers and audio since his teenage years. After attending Muhlenberg College studying Technical Theater, he worked as a freelance audio engineer. He joined Soundelux Systems as a fabricator advancing to the level of Director of Engineering. He worked on the design, building, and installation process for audio, video and control systems for numerous projects ranging from retail spaces, themed restaurants, multi-million dollar theme park attractions, sporting venues, museums, and boardrooms. While at Soundelux Bradford was also the IT Director – a hands-on position – responsible for the design, implementation, and administration of the computer networks at their multiple Florida locations.
Bradford went on to join Crown Audio. He began at Crown as a Product Integration Manager, and has served in other roles including Director of Product Application Support. Before being promoted to Business Development for Electronic Systems for Harman Professional, he served as Director or Application Engineering, where he was heavily involved in the development of System Architect™ software, the evolution of the HiQnet™ protocol, and the development of both Ethernet AVB products.
In addition to his responsibilities at Harman, Benn serves as a co-instructor for the SynAudCon Digital training seminar. His dual-background in IT and audio have uniquely prepared him for this role.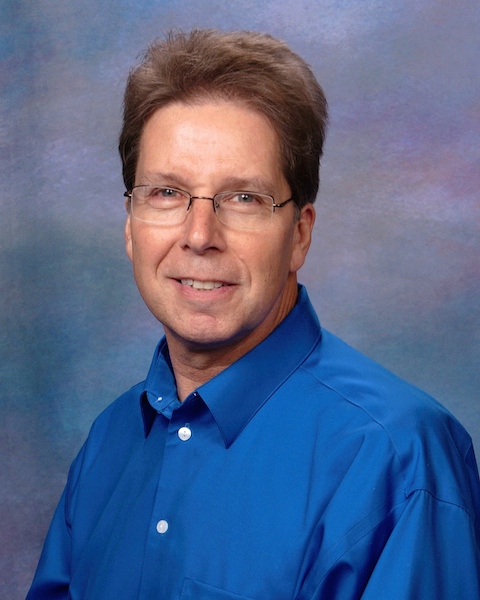 Pat Brown is a 1978 graduate of the University of Louisville with a degree in electrical engineering technology. With a background as a musician, sound technician, retail music store owner, contractor, and consultant, he is familiar with the many aspects of audio. He served as an associate instructor to audio legend and SynAudCon founder, Don Davis. Pat along with his wife Brenda own and operate SynAudCon and have been providing training for the audio industry since 1996. Pat, the main instructor for SynAudCon, has the unique gift of being able to share his knowledge of complex technical topics in an easy-to-understand real world manner through multi-media demonstrations. SynAudCon is recognized as a industry leader in audio education.
SynAudCon offers both in-person and online audio training. There are regularly scheduled in-person training and special one-time events as instruction on new technology is needed. With the release of the online training in 2010, SynAudCon training is now more accessible worldwide.
Pat writes articles for several publications. He authored three chapters for Glen Ballou's "Handbook for Sound Engineers" and is co-author of Sound System Engineering 4th Edition. He considers SynAudCon online audio training courses as his most complete "book," being able to explain the concepts and principles with animations and demonstrations.
He was chosen as NSCA "Educator of the Year" in 2005 and NSCA "Mover and Shaker" Award in 2011 & "Peter Barnett" Award in 2012.
SynAudCon has given private seminars to many companies and organizations, including the Kennedy Space Center, Disney World, Sea World, IMAX, Purdue University, the US military, Siemens and many audio manufacturers. He has conducted seminars in Europe, the Middle East, Africa, Asia, South America, Australia and Canada.
Pat and Brenda Brown founded a second business in 2005 – Pro Sound Testing, Inc. Pro Sound Testing measures loudspeakers to produce data files for use in room acoustics modeling programs. Pro Sound Testing was the first company of its kind in the USA. This experience of developing a measurement facility and measuring hundreds of loudspeakers from dozens of manufacturers has allowed him to develop some methodologies and specifications that have influenced a number of industry standards.
FAQ
I am scheduling a flight, what are the class times?

The class starts at 8:30 am and ends at 5:00 pm each day. The doors to the classroom are open at 8:00 am. Typically, we do not end early on the last day.
What does the seminar fee include?
The fee includes the instruction, class materials (full color manual, support files, and certificate of completion), beverage service, and lunch.
How do I register?
You may register online, call 812-923-0174, or mail a check payable to
Synergetic Audio Concepts,
8780 Rufing Road,
Greenville IN 47124.
My company uses purchase orders, what is the best way to register?
Please call (812-923-0174) or email me (bbrown at prosoundtraining.com) your purchase order information. I will register you for the class and send you the required paperwork.
Will I get a confirmation after registering online?
You will receive an immediate confirmation and a credit card receipt if you sign up online. The receipt will include an activation key to that seminar. Please forward that key to the person who will be attending the seminar so they can activate the key with their information.
I will email you a confirmation receipt if the registration is processed by phone or USPS. If you do not get it, check your SPAM filter. The message will be coming from bbrown at prosoundtraining.com
I will send another email about a week before the class with last-minute reminders. It is very important that you read this. It will contain information about "what to bring", location, times, special events etc.
Who provides lunch?
SynAudCon provides all-day beverage service and lunch each day. Lunch provides a great opportunity to network with others seminar attendees. If you need a special diet, tell me on the first morning. The hotels are usually very good at accommodating us in this regard.
What should I bring?
An enthusiastic attitude and with an eagerness to learn.
I will send you a note a week before the class with the details.
Testimonials
"Well thought-out and informative seminar."
I was very excited to take this course. I can tell you that I am not disappointed in any way.
I would like to thank you for a well thought-out and informative seminar. I can't wait until I get the opportunity to take the next course.
Michael Hunter
"Exceeded my expectations."
SynAudCon has a great reputation in the audio industry. Each and every time I interface with this organization, they exceed my expectations. This seminar was excellent!
Kevin Stoner
"SynAudCon is top-notch."
As always, SynAudCon is top-notch, well-prepared, pushing the envelope, and provides great tips and insights.
Pat, Steve and Brad are well…. WONDERFUL (and you too Brenda!)
Mark Gareau

Click to read more testimonials!

"I enjoyed the team teaching."

I enjoyed the team teaching. It made it interesting to hear their experiences. I also enjoyed the demonstrations and hands-on part of the seminar.

The added jokes and humor kept me entertained while talking about stuff that maybe wasn't so exciting, but we need to know.

You guys do a really good job.

Neil Yates

"Took my bits of knowledge and organized them."

This Digital course took the "bits" of knowledge that I thought I knew and helped me to organize them into "packets" that made the digital concepts east to understand and apply.

I am glad I attended.

Eric Reese

"I will be back."

All I have to say is that I will be back again. SynAudCon is great!

Tao Zhang, China
Hotel & Travel
Buena Park, CA Sept. 26-28, 2016 Seminar
Seminar Location: The seminar will be held at the recently renovated Holiday Inn Buena Park. AES Convention immediately follows this seminar on Sept 29-Oct. 2nd.
Hotel Sleeping Rooms: We have sleeping rooms reserved at Holiday Inn for $110/night. To get this rate, please call 714-522-7000 and request Block Code: SYN. The room block ends on Sept 5, 2016. This rate is not guaranteed after this date.
Holiday Inn is located
Transportation to/from the airport: Super Shuttle requires no reservation. Karmel requires a reservation. Average fares are $15-$20 each way.
Holiday Inn Amenities
Complimentary Parking
Complimentary Wifi
Complimentary Scheduled Shuttle to most Buena Park and Anaheim attractions
Onsite Car Hertz Rental
Public transportation within walking distance
Large outdoor heated pool and garden courtyard
Onsite Ventanas Restaurant
Directions: Please type this address into your favorite map program.
Holiday Inn Buena Park
7000 Beach Blvd
Buena Park, CA 90620
Ph: 714-522-7000
Seminar Information:
The seminar will be held in a meeting room called Grand Ballroom I & III at the Holiday Inn.
Seminar Times: 8:00 am – 5:00 pm each day. The class will end at 3pm on Wednesday.
The Class materials include: Full Color Manual, Support CD, Certificate of Completion and CEUs. (24 RUs and 10 CEDIA CEUs)
Meals: SynAudCon provides lunch and beverage service.