Highlights From the Workshop
Last week, 90 audio professional from around the world gathered in Fort Wayne Indiana for the SynAudCon Audio and Acoustic for Conference System Workshop. It was a fantastic and memorable three days. The days usually started at 7:30 am and most did not see their hotel room again until 10 or 11pm.  It was as if we did not want the days to end.
The workshop was held at Sweetwater and it was the PERFECT place. It is hard to find words to describe this facility. Not only does it have a beautiful look and feel, it is also rated as on of the most efficient buildings in northern Indiana with green and energy saving technology. Russ Berger (taught the acoustics portion of the workshop) was the acoustical consultant "good acoustics". This workshop took a great deal of multimedia capability and I do not know of another venue that could have pulled this off.  The meals were exceptional and our lunch was even supplemented one day with entertainment from guitarist Kenny Bergle.
What a honor it was to have Russ Berger on staff.  Russ is a recipient of many awards for acoustics and facility design. With more than 2500 projects to his credit, including NBC, ABC, CBC, Whitney Houston, and Mariah Carey to name a few. His lecture was full of valuable information presented in a practical and humorous sort of way. We all wish we could have another day of lecture from Russ.
Another dynamic duo was Jay Paul and Mario Maltese. Between the two of them, they have 70 years of experience. Their topics range from good business tips and ideas, teaching the concepts of teleconferencing through lectures and demonstrations, and guidelines and tools for commissioning the systems. They made learning fun and interesting.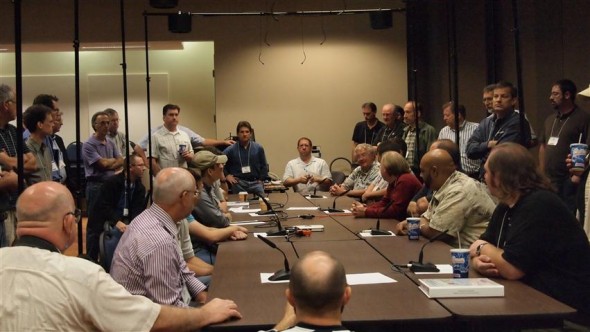 The workshop was well attended by several manufacturers. There comments and input to the workshop was extremely valuable.  Their goal was not marketing but to help us all have a been understanding of conference systems. The manufacturer panel discussion was optional but all but 5 attendees were there. People stayed well after it officially ended.
We were surprised by some very special guests – Don and Carolyn Davis (founders of SynAudCon).  The Davises spent nearly two days with us. Many of the attendees had the privilege to have one-on-one conversations and get an autographed book of Sound System Engineering.
This was the best "synergy experience" I have witnessed in the 15 years with SynAudCon. Everything about it encouraged interaction and collaboration. For the price of the hotel, breakfast and dinner was included. People naturally went to the hotel dining room for the meals. There were usually 2 tables of 10 and several tables of four interacting and mingling at every meal.  The great thing, it was always with different people.
We had a Synergy Room, complete with a synergy cake. The room was full and finally ended at 11 pm.  It provided a great time to interact with the Davises, the instructors and the manufacturers. The room was full of people who have a love for audio and with years of experience. Everyone had something to offer. Ray Rayburn had a crowd around him for nearly two hours on Thursday night and another group around him for nearly 3 hours of Friday night. Ray is one of the most knowledgeable and synergetic guys in the audio industry. This group of attendees understood this and took advantage of this opportunity. Friday evening, we gathered in the lounge to listen to Chuck Surack's (principle owner of Sweetwater) jazz band.
One pert we all experienced was the hospitality and graciousness for Fort Wayne, Indiana. Many were welcomed with a cookie as the arrived at Fort Wayne's airport.  Don's guest house (our host hotel for the event) went above and beyond with their excellent meals and service. Sweetwater – I do not know where to begin.  This is play land for AV professionals. At breaks, many were in the Sweetwater's music store, wandering around looking at the "state of art" studios and the lecture theater, or given a private tour by the Sweetwater staff.
By the end of the third day, we all were totally exhausted. It was three days filled with useful information and great memories. Pat and I would like to sincerely thank everyone who help make this event a success.
Brenda Brown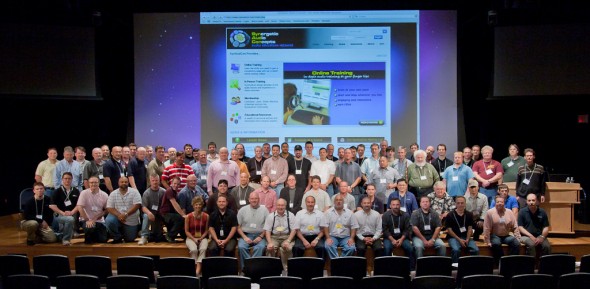 The Audio and Acoustic for Conference System Class Photo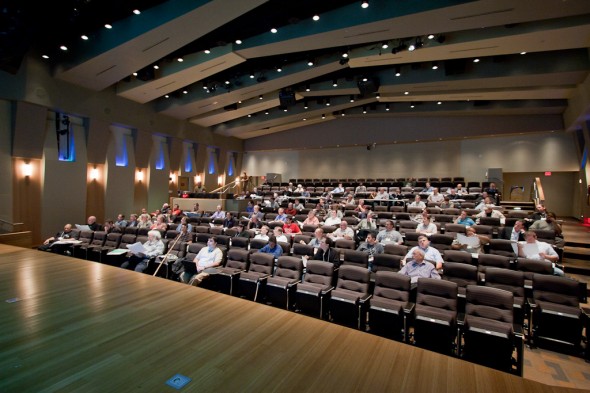 Sweetwater Theater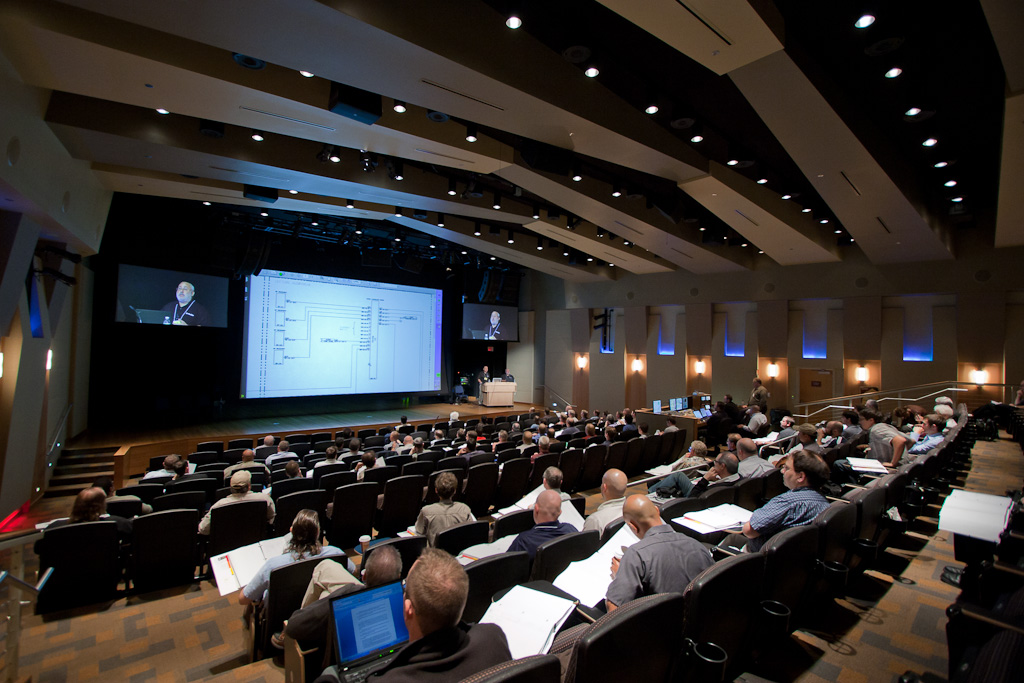 Another View of Sweetwater Theater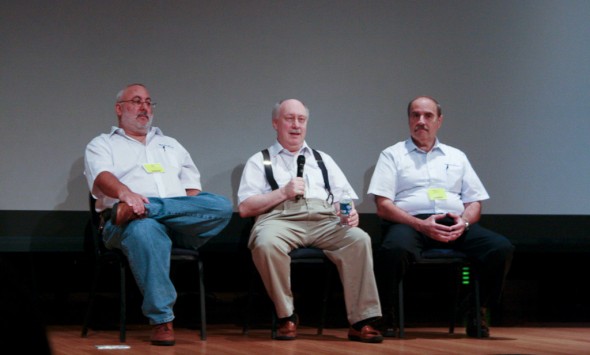 Question / Answer Time With the Staff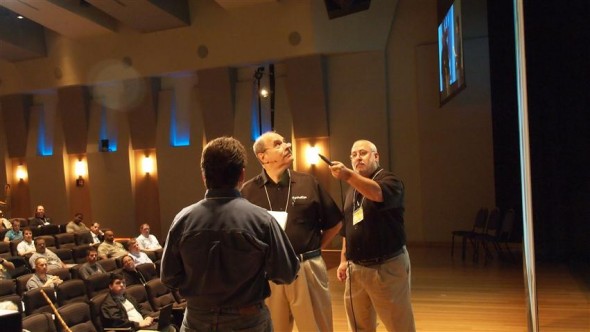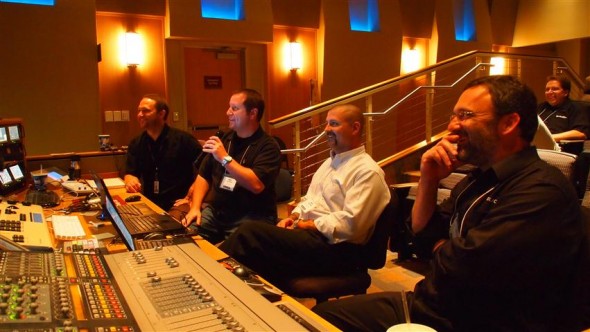 Dylan Ackerly (Sweetwater), Matt Czyzewski, Jason DiCampello, and Greg Suchomel helping with presentation and answering questions.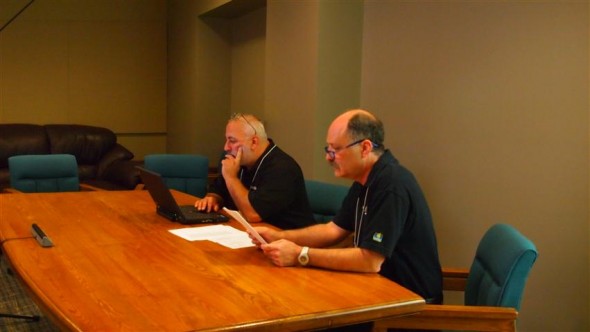 Jay Paul and Howard Kaufman reading in demo room as they demonstrate conference mixer processes.
The headphone jack in each seat made it nice for the attendees to hear the difference in the conference room mixes.
Rack for the demo system.
Gary Boackle, Ethan Miller and Steve Macatee calibrating their IPhone.
Lunch Time!
The Synergy Room had a "Synergy Cake".
Primetime Entertained us Friday Evening. Chuck Surack (Sweetwater principle owner) on the keyboard.
https://www.prosoundtraining.com/wp-content/uploads/2023/02/SACLogo_50.png
0
0
Brenda Brown
https://www.prosoundtraining.com/wp-content/uploads/2023/02/SACLogo_50.png
Brenda Brown
2010-09-28 11:00:41
2017-05-23 15:52:36
Highlights From the Workshop