Duran Audio Joins SynAudCon Sponsorship Program
September 2012 – Greenville, Indiana, USA – SynAudCon is pleased to announce that Duran Audio has joined the organization's sponsorship program.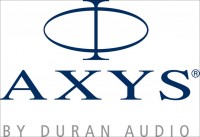 Duran Audio designs and manufactures the AXYS brand, conceived as not only a range of professional audio products but also as a series of innovative solutions to real-life electro acoustical problems, such as poor intelligibility in voice evacuation system and unpleasant distortion in music reproduction.
"SynAudCon has consistently demonstrated that they are the number one provider of professional audio education," explains Gerrit Duran, owner and founder of Duran Audio. "By supporting their organization we are supporting our internal education efforts while at the same time making a commitment to the education of the professional audio industry."
The Duran Audio research and development team focus on electro-acoustic/loudspeaker design, digital and analog electronic design, digital signal processing and software development. They have in turn utilizes these core competencies to deliver effective and advance audio delivery solution to the industry.
"We are very excited to have Duran Audio join our growing list of sponsors," notes Pat Brown, president of SynAudCon. "Duran Audio has made a commitment to furthering pro audio education efforts across the industry. We appreciate their backing and look forward to working with them."
https://www.prosoundtraining.com/wp-content/uploads/2023/02/SACLogo_50.png
0
0
https://www.prosoundtraining.com/wp-content/uploads/2023/02/SACLogo_50.png
2012-09-05 14:14:57
2012-09-05 14:14:57
Duran Audio Joins SynAudCon Sponsorship Program