by Ray Rayburn
Many years ago I decided to build a "talker" loudspeaker that would simulate to at least a first order of magnitude the directional characteristics of the human voice.  To do this I made a box roughly head sized, with rounded edges to minimize diffraction from the edges, and placed a simple non-coaxial 3″ driver on the face of the box at about mouth height.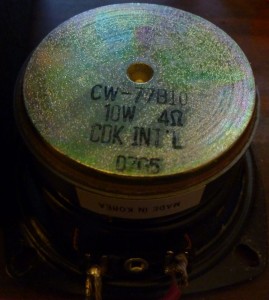 The driver used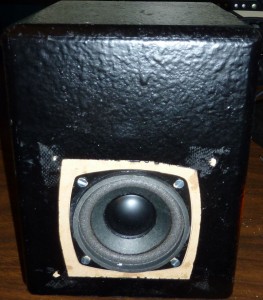 The driver mounted in the box
A simple cone driver was selected so there would be no crossover related artifacts.  A flange to fit a microphone stand was put on the bottom.
More recently I added a small power amp bolted to the rear of Mr. Blockhead.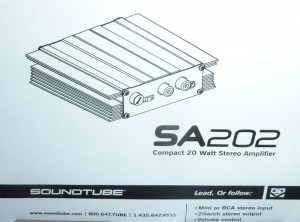 EQ to flatten the response is done with an XFrame88.  The EQ can be used live, or recorded test signals can be equalized and re-recorded and played through Mr. Blockhead so the EQ does not have to be taken into the field.
One thing that bothered me as I prepared to take Mr. Blockhead to the Emergency Communications Workshop was the fact that having a finite size, Mr Blockhead would have a different response at different distances.  As you get close to the loudspeaker, the low end should rise.  I decided to measure the response at different distances.  I used one of my SF101a measurement microphones connected to a Sencore SP395 analyser.  This is what the equalized response looked like at 1 meter: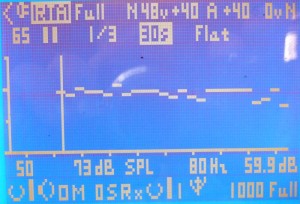 Each step in the display is 0.5 dB.
I then moved the microphone to 2 inches from the driver, and again equalized for flat response: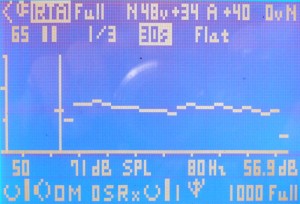 I then recalled the 1 meter EQ settings but kept the microphone at 2 inches: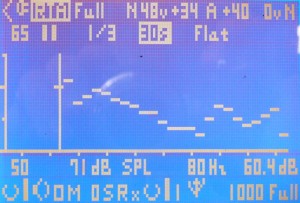 I did get the expected boost in lows, but also a couple of peaks in the highs.  I attribute this to the fact that at high frequencies the cone does not radiate equally from its entire surface.  At 2 inches from the driver, the microphone is closer to the center dome than the cone.
I have saved EQ presets for 1 meter, 6 inches, and 2 inches.  It will be interesting to learn at the Workshop if any of the talker products on the market attempt to compensate for the response changes with distance.
https://www.prosoundtraining.com/wp-content/uploads/2023/02/SACLogo_50.png
0
0
https://www.prosoundtraining.com/wp-content/uploads/2023/02/SACLogo_50.png
2012-12-23 03:48:52
2012-12-23 03:48:52
Mr. Blockhead – Part 1