SynAudCon Digital Class toured the Utah State Capitol Building
By Brenda Brown
Last week, we held the SynAudCon Digital Class in Salt Lake City. It was a great class with 40 attendees. The class was taught by Pat Brown, Steve Macatee, and Brad Benn.
We often compliment the Digital seminar with a tour. This time, we had the privilege of touring the Utah State Capitol building. The consultant for the project was Gerald Nelson and Kurt Kallinga of Spectrum Engineers and the contractor was Poll Sound. The tour was led by Steve Jay and Deward Timothy of Poll Sound and Gerald Nelson from Spectrum Engineers. With the long halls and this large group, the tour would not have been possible without the use of Listen Technologies Tour System (LT-700 Portable Transmitter and LR-400 Body Pack Receivers). It allowed the entire group to hear every word, even while milling around and peering into racks and recesses.
What an interesting tour! The architecture drove much of the project and understandably, considering the ornate and elaborate design of the 1900's venue. Salt Lake City is sitting on a seismic earthquake fault, which was the major reason for the huge renovation project. The Capitol makeover is an engineering achievement, with millions of pounds of concrete carefully shifted to new foundations and resting on devices called base isolators – thus protecting the building and its occupants from severe earthquake damage. The building can sway up to 3 feet in any direction, and is surrounded by a moat to allow room. In addition, artwork, fixtures and furnishings were acquired, conserved and created; and new service buildings were added to allow the work of the legislators to continue uninterrupted during the project.
This was a 7-year project for the consultant and it took one year for the installation. The venues toured included Legislative Committee and Caucus Rooms, Legislative Chambers, presentation rooms, board rooms, and the master control room. Systems include audio, video, control systems, recording, broadcast origination, transport, control, RF distribution, audio and video streaming, and voting systems. Systems can be combined at will for larger functions. Audio signals are transported throughout the building via CobraNet and AES3 which made it a nice compliment to the SynAudCon Digital Seminar. The media type is distance-dependent, with copper used for short runs and fiber for long ones.
With any 100-year-old building, most walls and spaces were no longer square. This required a continual on-the-fly redesign and much ingenuity to make the system work while preserving the architecture. The question in every room was "Where are the loudspeakers?" – all of which were cleverly concealed. Accomplishing this without sacrificing coverage was one of the hallmarks of the project. In one case a slightly-too-large Intellivox array was disassembled and the components loaded into a custom built cabinet that fit the concrete cavity.
Our deepest gratitude goes out to Poll Sound, Spectrum Engineers and Listen Technologies for making another learning opportunity possible for our group. Enjoy some photos that were taken during the tour.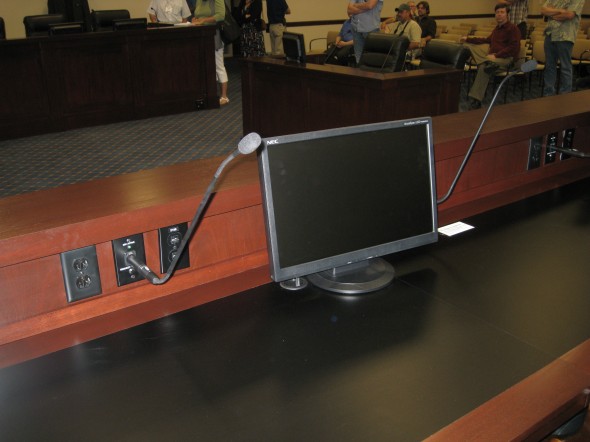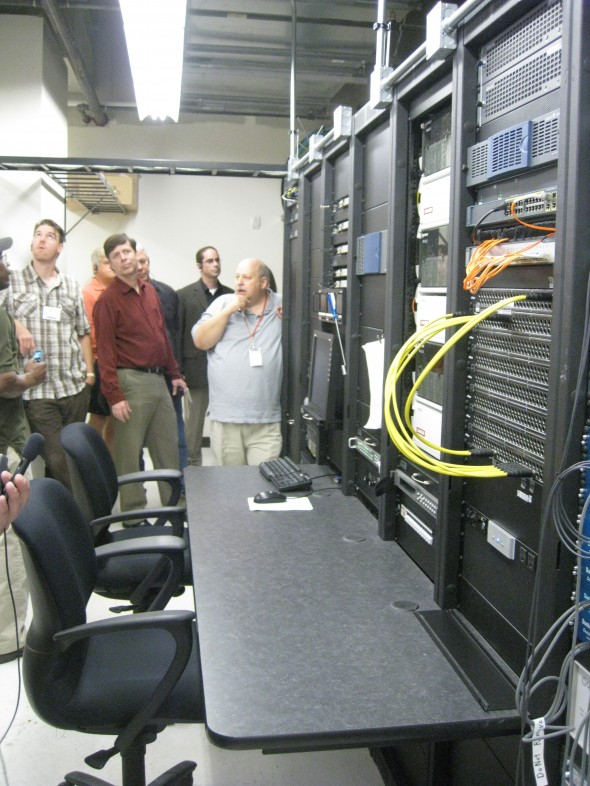 https://www.prosoundtraining.com/wp-content/uploads/2023/02/SACLogo_50.png
0
0
Pat Brown
https://www.prosoundtraining.com/wp-content/uploads/2023/02/SACLogo_50.png
Pat Brown
2010-08-24 14:37:37
2017-05-23 15:44:57
SynAudCon Digital Class toured the Utah State Capitol Building