SynAudCon Welcomes A New Sponsor – SurgeX International
By Brenda Brown
I love to hear stories from our seminar attendees on how they started their business. I find them very intriguing. I thought you may enjoy reading the story behind SurgeX and how it relates to SynAudCon.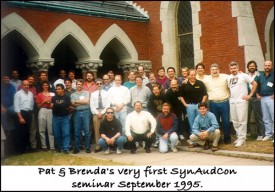 Pat and I gave our very first seminar in Fall River, MA (September 1995). We prepared the best we knew how at the time but there was so much we didn't know. Each registration was huge. With Paul Hanoud's help, we were extremely thankful to have a wonderful turnout.
There was one company that especially caught our attention. New Frontier Electronics sent four individuals to the class. They brought with them two 'new technology' pieces of electronic equipment. Pat immediately recognized the need for that equipment within the audio industry. This company later became known as SurgeX.
We learned at the seminar, that the four of them were working full-time jobs and trying to start this new business on the side. Pat and I were doing the same thing with SynAudCon, working two jobs to support our new venture. We both had an exciting vision but at the same time we were also experiencing many of the same stresses that go along with an entrepreneurial focus. This created a natural bond. From that day, they commended each others advancements and accomplishments in the professional AV industry.
SurgeX soon became a sponsor of SynAudCon. SurgeX got another boost when the staff of the SynAudCon Grounding and Shielding Workshops demonstrated that series-mode surge elimination technology is what is needed to truly protect integrated systems from power line events.
Through the years, SurgeX has grown to become a leading manufacturer of AC power protection, conditioning and management. Their products are in almost every professional AV system. Their efforts and products have changed the industry.
In 2009, the North American distribution of SurgeX was sold to Electronic Systems Protection (ESP). The original SurgeX founders Michael McCook and Andy Benton reformed the company establishing SurgeX International to serve the global marketplace with 230V products. SurgeX International is now making unprecedented strides in the global marketplace. In 2010, SynAudCon also recognized that we too can reach the global market through web-based training, once again paralleling the path taken by SurgeX.


https://www.prosoundtraining.com/wp-content/uploads/2023/02/SACLogo_50.png
0
0
https://www.prosoundtraining.com/wp-content/uploads/2023/02/SACLogo_50.png
2012-03-27 13:32:11
2012-03-27 13:32:11
SynAudCon Welcomes A New Sponsor – SurgeX International