by Curt Taipale
Curt addresses the pro and cons of mixing on an iPad. What's so good about being able to mix remotely? And what are the limitations?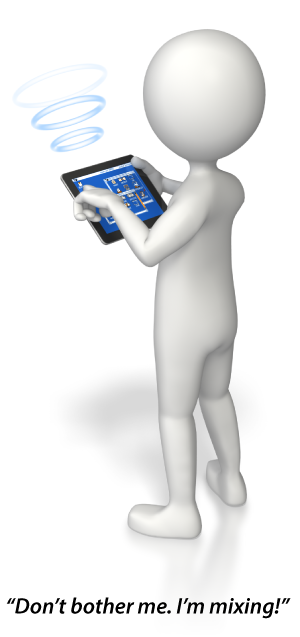 In recent years manufacturers of digital audio consoles have added a truly remarkable feature – the ability to control the console remotely using first a wireless laptop, and now an Apple iPad™, even an iPhone™.
When this feature was first introduced over ten years ago, it was clumsy to operate and desperately slow to respond. But now that we're a few years in to this feature, those "apps" have been refined to the point that they are very usable, and it has opened a world of possibilities for church sound techs.
In fact having a remote control app has become an expected feature, so much so that any console manufacturer that doesn't have an elegant remote control app available for their digital consoles is deemed to be behind the curve, even out of step with the needs of end users.
Why? What's so good about being able to mix remotely? And what are the limitations?
Let's first clarify the intent. Although technically it is possible, no seasoned sound engineer is going to try mixing a myriad of inputs during a complex worship service on an iPad. One could lose hair during such an exercise.
On the other hand, if the mixing requirements of your worship service are simple and easily managed, then mixing remotely is entirely possible. More about that in a moment.
Up Close and Personal
Imagine being able to stand on the platform, side by side with the musicians during soundchecks and rehearsals, adjusting their monitors remotely. The players can give you instant "feedback" on their mix, what they need more of, what they want less of, and so on. No more guessing. No more yelling "how about that!?!" Plus you will know instantly if you're getting close to feedback on their mic.
Experience that even just one time and you'll never want to go back to trying to guess what they need in their monitors from the production booth some hundred feet away. Or (perish the thought) from a balcony mix position. Oh the horror of it all.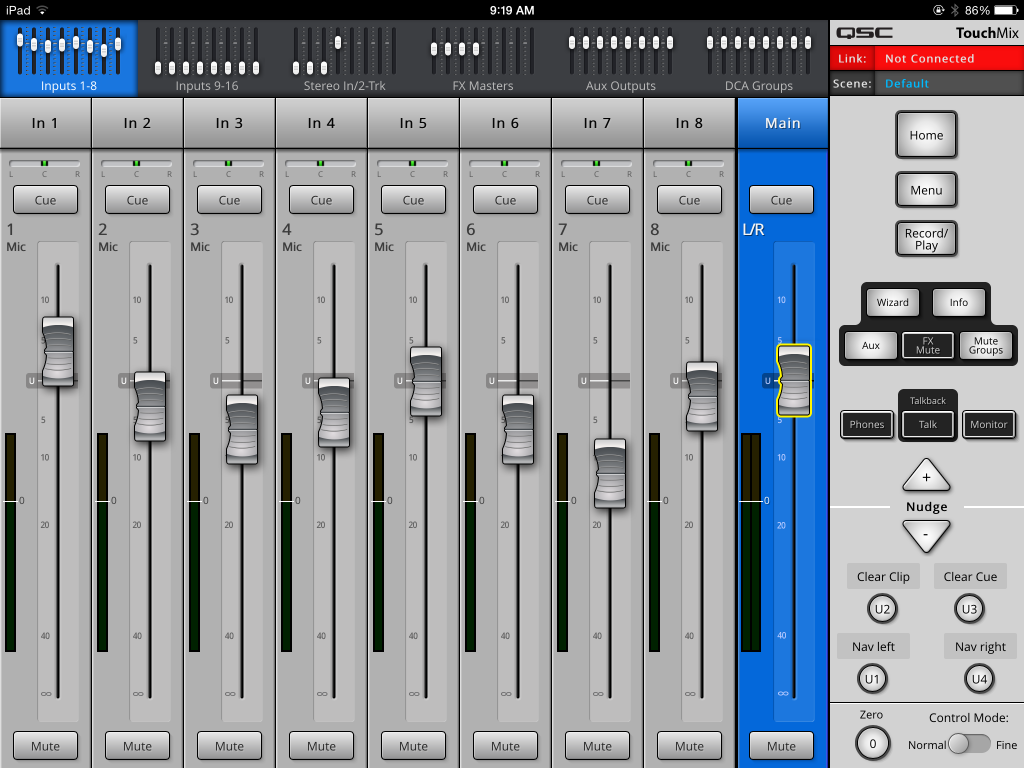 QSC TouchMix™ iOS control app
Front-Of-House? Really?
But what about actually mixing FOH for a worship service remotely, from any seat out in the sanctuary? In the right application that is entirely possible.
From my perspective the "right application" describes churches whose typical service is fairly predictable, similar from week to week, with a need to control only a handful of inputs, who rarely use accompaniment tracks, and so forth.
The more inputs you have to handle, the more complex the mix, the less practical that scenario becomes. So the answer is – it depends. Of course since you already have the digital audio console, then you can choose to mix on the iPad or on the console control surface itself depending on the needs of each service.
It's Better Than Mixing Blind
Never underestimate the value of this solution. There are still too many churches where the sound booth is in a highly compromised listening location, even hidden away in a room, usually on the second floor, either with a small opening that peers into the sanctuary or worse yet, with a window covering that opening, putting their ears into a closed room.
Giving those poor church sound techs the ability to get their ears out of that hole and into the auditorium – which is after all "a place to hear" – where they can sit amongst other members of the congregation is a dream come true, all without having to move the booth out into the main seating area.
Another reason is that a person stuck in a second floor tech booth may feel more like an observer than a participant; even more so if it's behind glass.
Not only are they able to get out of that afterthought of a mix position, but they can actually feel like they are a part of the service and still do their job of mixing. The technology provides a solution, and for them it's a liberating one.
Rubbing Elbows with the Congregation
They live with it because that's all they've ever known. When I offer the option of their sound tech being able to sit in the service and mix wirelessly, their pastor's eyes brighten because they know what it means for their tech. They smile even more when they discover that it means not having to relocate the booth to the main seating area.
Allow me to quote a comment from Joe, a friend who recently shared his experience with us:
"I am one of them … sound booth in a 'crow's nest' in the attic w/a 2'x2′ open window. Never could hear what the congregation heard. Now I sit in a pew with an iPad-mini and unobtrusively control the sound system, while sitting with my wife – something I have not been able to do for about 10 years!"
I have talked with pastors who readily go for the digital console and iPad mix solution when they find out that doing so will get their sound tech out of the booth and into the service where they can be ministered to.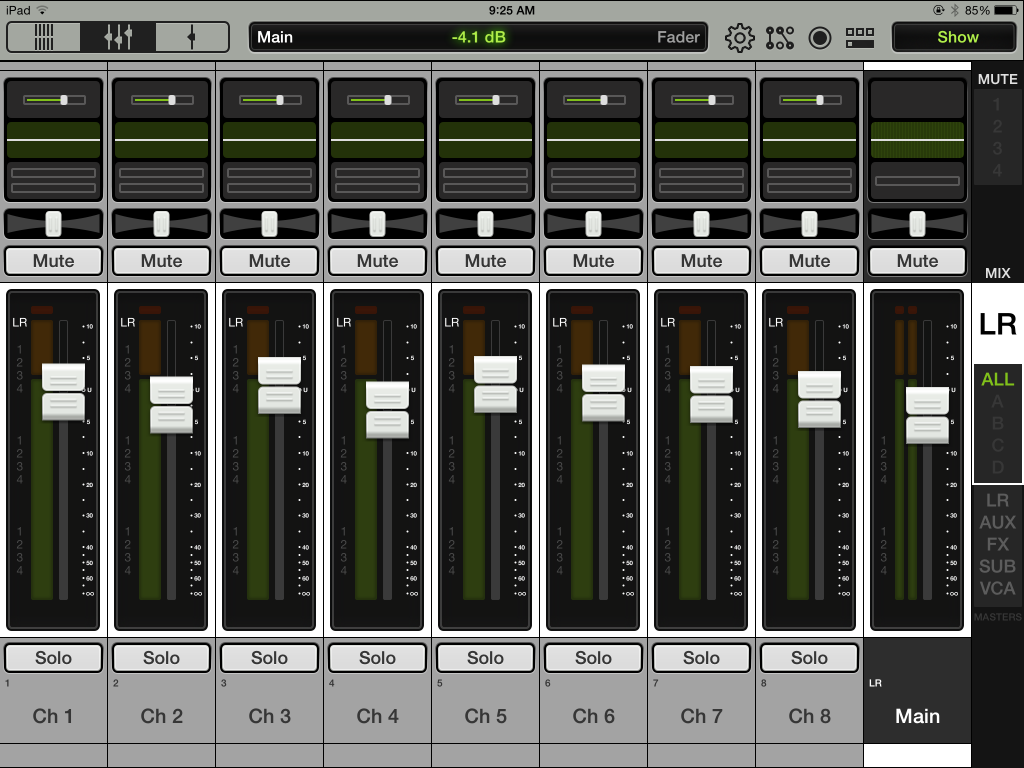 Mackie Master Fader™ iOS control app
Variables, Variables…
There are other variables to consider. For example, the process required for recording the worship services to provide to your congregation, post to your web site, or even for archive purposes raises the level of complexity. It might be best if you have a second operator who stays in that enclosed booth specifically to handle the recording equipment, possibly even doing the mix for that recording.
Likewise, tech team members who control the stage lighting or who provide video graphics support for song lyrics or sermon notes may find that the production booth is still the better environment for their needs.
Other limitations? The wireless link on some systems seems to be more secure than on others. Now understand that losing sync between the iPad and the digital audio console won't likely affect the audio. The mix should stay the same as it was when you lost sync, and you can pick up where you left off the moment your wireless link is reconnected. For that reason, I would recommend that your wireless network be reserved for the console only, not allowing any other network traffic to interrupt that communication.
Conclusion
The ability to mix FOH while seated anywhere in the auditorium has proven to be a godsend for many church techs. I would counsel against it if the mix requirements were significant, but in the right applications it can work very well. Again, each application is unique. If you haven't ventured down this road yet, I encourage you to give it a try.
Don't have a digital console yet? It's not too early to start researching the remote control apps for your favorite digital consoles. Some of them are free to download and explore, even if you don't own the console. Enjoy.   ct
Copyright 2015. Taipale Media Systems, Inc. All Rights Reserved.
Curt Taipale enjoys over 30 years of experience in audio as a church tech team leader, recording and live sound engineer, consultant, AVL system designer, design/build contractor, educator, author, and professional musician. He is the founder of ChurchSoundcheck.com, author of "The Heart of Technical Excellence", author of three chapters in Yamaha's "Guide to Sound Systems for Worship", and a contributing author to several prominent trade magazines.
Curt has taught literally thousands of church sound team volunteers, technical staff, worship pastors and musicians. Having made his living as a professional musician for 12 years, earning a Bachelor of Music degree in Music Engineering from the University of Miami, serving 11 years full time on the production staff of three churches as Audio Director and Technical Director, plus several more years as a sought-after freelance sound engineer, and now focusing his career on designing state of the art sound, video and theatrical lighting systems for churches nationwide, Curt brings a unique perspective and depth of knowledge to every AVL system he designs and every workshop he teaches.
https://www.prosoundtraining.com/wp-content/uploads/2017/11/synaudcon_small-300x57.png
0
0
https://www.prosoundtraining.com/wp-content/uploads/2017/11/synaudcon_small-300x57.png
2015-07-03 12:04:35
2015-07-03 12:04:35
Can I Really Mix on an iPad?