Prepping for Fall Seminar: Making Wireless Work

Making Wireless Work: 2015
Things are buzzing at SynAudCon this week, and it's not a ground loop. Preparations are under way for two upcoming specialty seminars – SynAudCon Digital and Making Wireless Work.
SynAudCon Digital – Better Than Ever

Steve Macatee and Brad Benn flew in on Monday for a couple of days of prep.
We devoted the first day to manual revisions. Topics were added. Topics were removed. We re-balance the content of this seminar each time we have it, as dictated by new developments in the marketplace and feedback from the previous event. New demos were added for dither and noise-shaping. We capped the day with some Thai food in a local country town, talking digital the whole time.
On day two, we went through the hands-on workstations, with about half the day spent on firmware updates. The workstations include our new Cisco managed switches for computer exercises. Since last time we've added some fiber links using mini-GBICs on the switches. The Audio-over-Ethernet exercises include Dante-enabled products from eight different manufacturers. They're apples, oranges, and pears, and attendees will get a good exposure to a variety of interfaces as they cycle through the workstations. We're going to make it work, break it, and then make it work again, merging the eight workstations into a single system as the final exercise of the seminar.
As the sun set, Brad and I dropped Steve at the airport, picked up the gear from last week's Denver seminar, and hit a sports bar to talk more digital audio.
SynAudCon Digital – Nov. 16-18, 2015 in Washington DC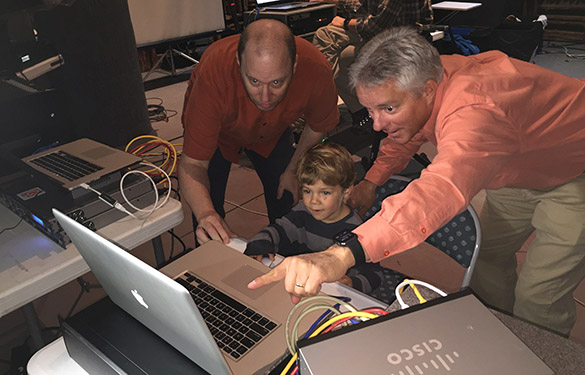 Making Wireless Work – New Staff Member and Some Tweaks

I'm loving this event, because I get to sit back and watch the presenters mold the presentations through conference calls and emails. This time around Eric Reese (Sennheiser) will join Tim Vear (Shure), Karl Winkler (Lectrosonics), and James Stoffo (Radio Active Designs) to round out the staff. James is bringing spectrum analyzers ranging from $300 – $30,000, and Tim Vear is bringing his faithful HP along with the new Tektronics RSA306. We're going with two 12 ft projection screens and a roving wireless camera to give the attendees "eyes on" all of the demos.
These guys talk antennas like fishermen talk lures, and from listening in on their conference calls I can confirm that they really like this stuff. Someone needs to warn Las Vegas that the Tuscany Resort will be radio active in early December.   pb
MWW – Losing the Wires Without losing your Mind
December 3-4, 2015 – Las Vegas, NV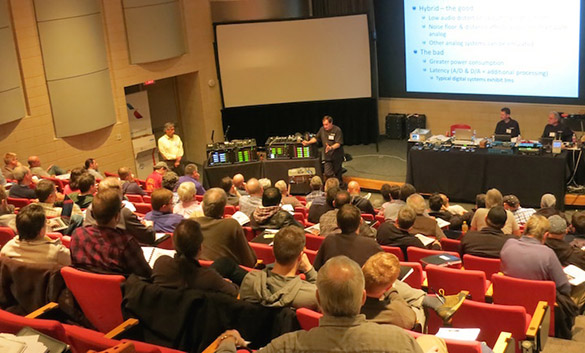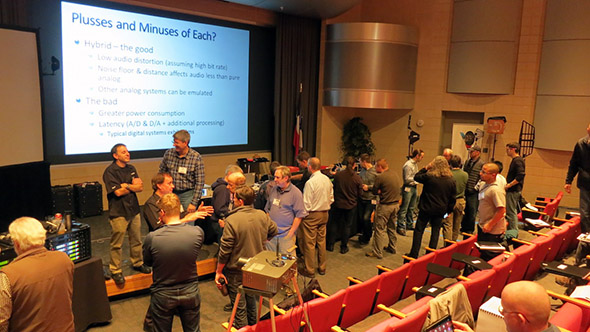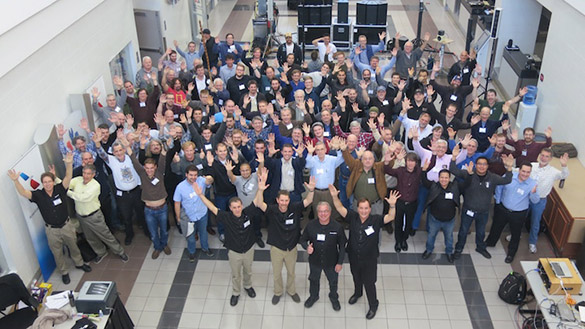 https://www.prosoundtraining.com/wp-content/uploads/2023/02/SACLogo_50.png
0
0
Pat Brown
https://www.prosoundtraining.com/wp-content/uploads/2023/02/SACLogo_50.png
Pat Brown
2015-10-30 06:10:34
2018-02-08 10:55:56
Prepping for Fall Seminar: Making Wireless Work