Exciting Idlewild Baptist Church
By Pat Brown
SynAudCon takes a tour of Idlewild Baptist Church, and provides some measured data.
The Tampa, FL seminar attendees were treated to an evening visit to Idlewild Baptist Church. The new 5500 seat facility sits on a 150- acre campus north of Tampa.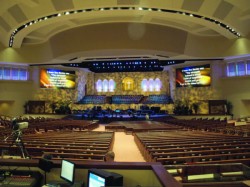 The sound systems at Idlewild were designed by Thrasher Design Group, Inc. Bill Thrasher is a member of the SAC email discussion group. The two youth auditoriums are covered by high-density distributed systems (full-range loudspeakers). The main auditorium is a hybrid system, with discrete component HF/LF systems (large-format horns) covering the main floor and distributed full-range systems covering the rear of the space. Analog stage inputs drive the digital console (all transformer-balanced with 48V phantom power). The signal distribution is digital (AES3) post-mixing console.
The broadband reverberation time (T30) is just under 2 seconds, and all seats have a positive C50. These and other acoustic metrics can be determined from the impulse responses of the space that we gathered at a few random locations in the pattern of the main array. Use GratisVolver to convolve with speech or music to have a listen. See Project #29 on the Syn-Aud-Con IR Exchange. pb.

https://www.prosoundtraining.com/wp-content/uploads/2023/02/SACLogo_50.png
0
0
Brenda Brown
https://www.prosoundtraining.com/wp-content/uploads/2023/02/SACLogo_50.png
Brenda Brown
2010-03-15 15:23:32
2010-03-15 15:23:32
Exciting Idlewild Baptist Church